Class of 1969
Fairmont West
High School
Beautypedia

beautypedia.com
How We Do It
We assign products a rating of one to five stars.
Five stars: Superior. These are industry-leading, world-class products that contain an intriguing amount or combination of research-proven ingredients.

Four stars: Excellent. These are some of the best products around but have minor formulary, aesthetic, or performance issues that can affect a decision to purchase or results you'll see.

Three stars: Average. May have certain issues such as a lack of key ingredients or a more basic or one-note formula, but might still be worth considering, especially if the price is low.

Two stars: Below average. These products are disappointing on many levels, from formula to packaging or value for the money. Not worth strong consideration.

One star: Poor. An irritant-laden or otherwise disappointing formula, bad performance, poor packaging, or a combination of these make such products a must to avoid.

Skincare review ratings are based on published scientific research—not our feelings after using the products. No one needs to use a product to find out that it's bad for their skin, the same way you don't need to smoke a cigarette to find out that it's bad for you. The research is there to inform us, and when it comes to skincare, it's the research that matters most.
Makeup ratings are based on the team's color specialists who test and compare products to let you know their opinions of exactly how they perform. Each category of skincare and makeup products have their own unique criteria that determine its final rating, but here's the basic checklist we use to determine if a product is worth your time and money and most importantly brilliant for your skin:
Who is the product best for, and how easy is it to use?
Can the product live up to all (or any) of its claims?
Does it contain effective amounts of ingredients proven to make skin look younger?
Does the product contain any ingredients research has shown can irritate skin?
How does the product differ from similar types of products—is it worth its price?
How does its packaging impact performance, ingredient stability, and ease of use?
You can learn about the criteria we've established for each category of products by visiting the Best Products section where each category has these details summarized for your convenience!
Here are a couple of examples. Go to Beautypedia for more.
Regenerist Luminous Facial Oil Daily Treatment
1.30 fl. oz. for $ 25.95
1 star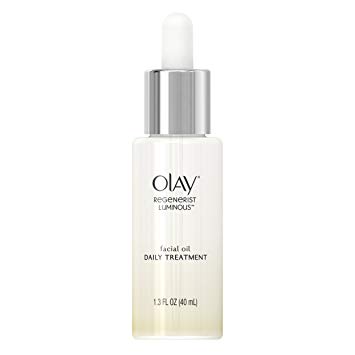 Oh, Olay! The category of facial oils is ripe for a change of pace, and we were hoping your entry would turn the tide. Unfortunately, despite some great ingredients for dry skin, Olay's contribution to the crop of facial oils is loaded with fragrant oils—just like so many others we don't recommend. A pleasant fragrance is great, no question, but what makes your nose happy isn't likely doing the same for your skin. In fact, the fragrant oils in this product have a fairly strong track record for irritating skin!
The prime fragrance offenders are orange, tangerine, and lemon peel oils. Each of these oils contain a fragrance chemical in the peel known as limonene. Research has shown that limonene is a skin sensitizer when exposed to oxygen, which is what happens when you apply this product (after all, we cannot escape oxygen in our environment…well, at least if we want to stay alive). Also, each of these citrus oils (especially the lemon, as it has a high limonene content) can put skin at risk for a phototoxic reaction when skin is exposed to sunlight—and it's not clear how much of these fragrant oils is needed to elicit such a response!
How sad! This could've been a fairly priced, wonderfully restorative facial oil for those with dry skin and signs of aging. As is, using it means treating skin to several good ingredients along with fragrant oils known to be troublesome. That's not a compromise worth making.
PROS:
Rich mix of dry skin-beneficial triglyceride and oils.
Inexpensive given its concentrated formula.
The plant oils provide an antioxidant boost.
CONS:
Contains fragrant citrus oils shown to be irritating.
Lemon oil can cause a phototoxic reaction if skin isn't carefully protected from sunlight.
More Info:
Daily use of products that contain a high amount of fragrance, whether the fragrant ingredients are synthetic or natural, causes chronic irritation that can damage healthy collagen production, lead to or worsen dryness, and impair your skin's ability to heal. Fragrance-free is the best way to go for all skin types. If fragrance in your skin-care products is important to you, it should be a very low amount to minimize the risk to your skin (Sources: Inflammation Research, December 2008, pages 558–563; Skin Pharmacology and Physiology, June 2008, pages 124–135, and November-December 2000, pages 358–371; Journal of Investigative Dermatology, April 2008, pages 15–19; Journal of Cosmetic Dermatology, March 2008, pages 78–82; Mechanisms of Ageing and Development, January 2007, pages 92–105; and British Journal of Dermatology, December 2005, pages S13–S22).
Jar Packaging: No
Tested on animals: Yes
Luminous Brightening and Protecting Lotion SPF 30
1.69 fl. oz. for $ 29.99
5 stars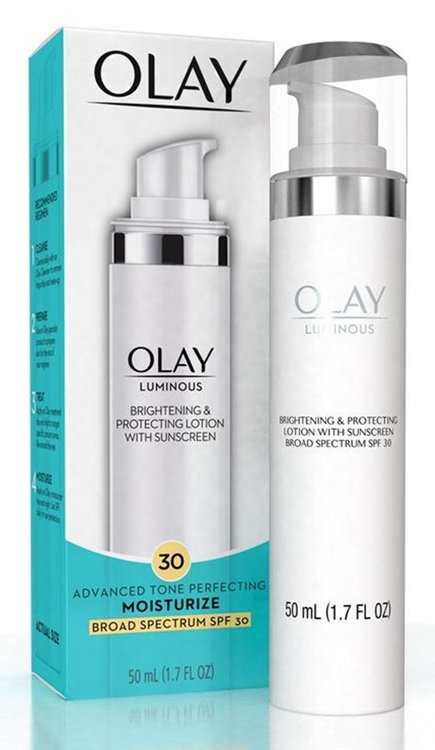 Luminous Brightening and Protecting Lotion SPF 30 ranks among Olay's best daytime moisturizers with sunscreen—and is a top pick at the drugstore if you have normal to oily or combination skin (including breakout-prone skin).
Packaged in an opaque white bottle with a pump dispenser, this lightweight, hydrating lotion applies easily and works well under makeup. Broad spectrum sun protection is supplied, with stabilized avobenzone on hand for sufficient screening of UVA rays.
Along with sun protection and hydration comes a cavalcade of anti-aging ingredients led by skin tone-improving niacinamide. The amount of niacinamide is likely enough to make a positive difference on spots and uneven skin tone—and of course the sun protection keeps either concern from getting worse.
The niacinamide is joined by antioxidants and restoring ingredients, along with titanium dioxide for a subtle brightening effect. All told, this is an esthetically pleasing daytime moisturizer.
The only drawback is the fragrance, although the amount used is minimal, which helps reduce the risk of irritation. Still, we'd be even more enthusiastic about this if the fragrance was removed, but there's certainly enough here to make this worth trying.
PROS:
Provides broad spectrum protection.
Silky lotion base works well under makeup.
Visibly brightens skin.
Good mix of anti-aging ingredients, including niacinamide.
Packaged to keep light- and air-sensitive ingredients stable.
CONS:
The fragrance poses a slight risk of irritating skin.
Jar Packaging: No
Tested on animals: Yes